All Year 7 2024 Application to Enrol in a NSW Government School forms have been sent to all in-zone parents.
If you haven't received the form, please contact your primary school or Jackie at Gorokan High School by email: gorokan-h.school@det.nsw.edu.au.
Forms are due back by the end of Term 2.
For students enrolling from a non-government primary school or are Out of Zone applications please visit our website for details: Enrolments
TERM 2

Week 5

Monday 22 May – Wednesday 24 May 

Year Adviser Introduction Days to partner primary schools

Week 5

Wednesday 24 May

Showcase Evening at Gorokan High School

Week 10

Monday 26 June

Application to Enrol in a NSW Government School form to be submitted to Gorokan High School

TERM 3

Week 7

Wednesday 30 August

Sports Day at local oval for all Year 7 2024 students

TERM 4

Week 3

Monday 23 October


Taster Day – Toukley Public School
9am Assembly – 2pm Parent Pick-up

Tuesday 24 October
Taster Day – Kanwal Public School, Out-of-Zone, Selective Class
9am Assembly – 2pm Parent Pick-up
Wednesday 25 October
Taster Day – Gorokan Public School
9am Assembly – 2pm Parent Pick-up

Week 8

Tuesday 28 November

Aboriginal Students' Breakfast Yarn Up 
8:30am for all Aboriginal and Torres Strait Islander Students and Families
 

ORIENTATION DAY
for all 2024 Year 7 Students
9:15am – 1:45pm

Parents are welcome to attend until 10am on the Orientation day for information and questions leading into 2023.
The Uniform Shop will be open from 7:30am to 1:30pm to try on uniforms. See UNIFORM SHOP below for opening hours in the holidays and ordering online.
Year 7 Book Packs will be issued to students at the end of the Orientation Day. 
Miss Holly Buchanan – Year Adviser 
My name is Holly Buchanan and I am proud to be the Year 7 Adviser for 2024. I have taught at Gorokan High School for over eight years and I am enthusiastic about our students and our school community. We have so much to offer your children and I am excited to support them through the many opportunities that come their way.
I am someone your child will know when they come to Gorokan High School and can come to for assistance. I am a point of call for any questions regarding your child in Year 7 until the end of Year 12. If there are challenges that arise throughout their high school journey, I will be able to assist in supporting your child with the resources our school possess.
I work closely with the school Wellbeing Team and Classroom Teachers to ensure the needs of each student are being met to allow them every opportunity to achieve success. 
I look forward to getting to know you and your children throughout their time at Gorokan High School.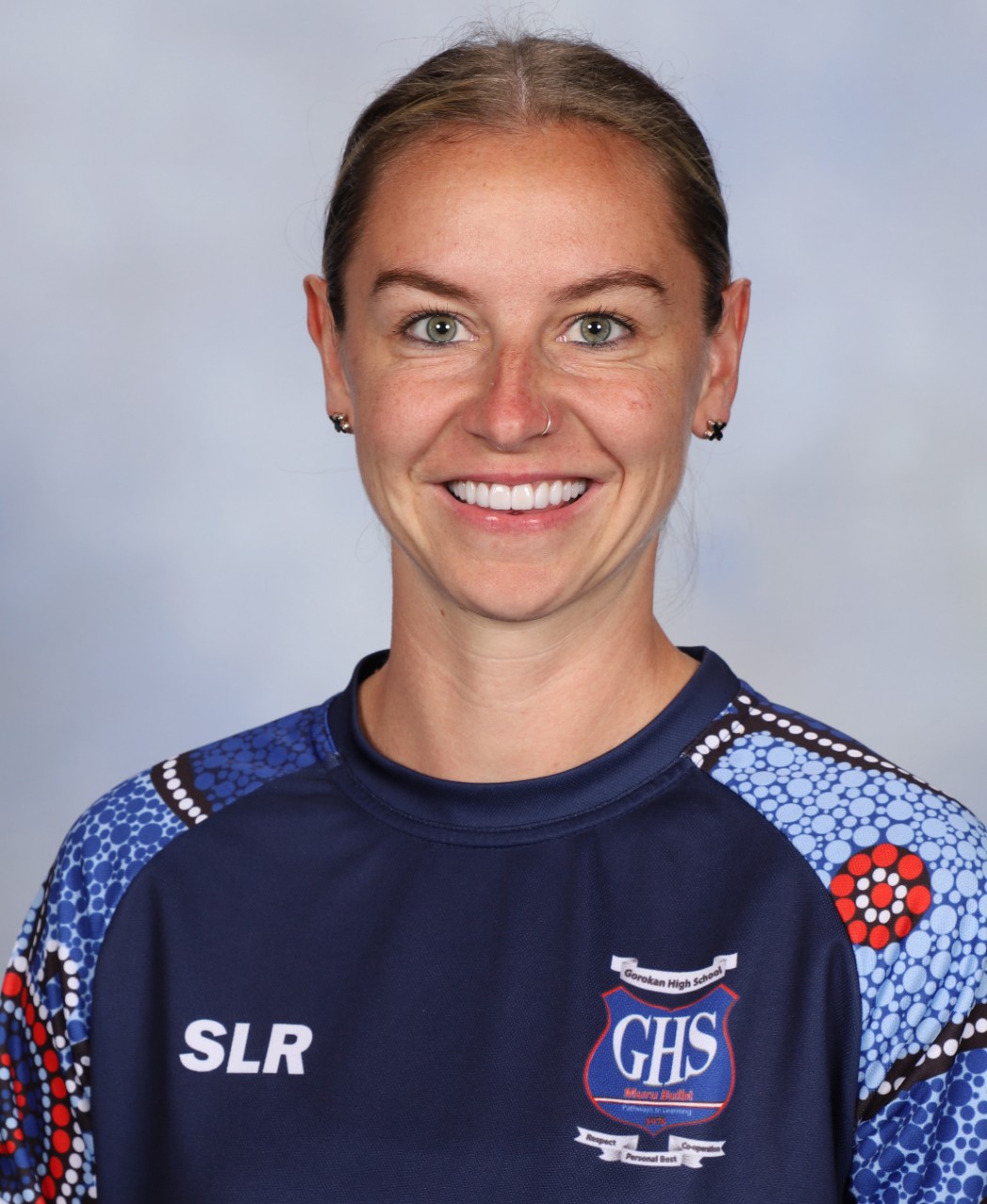 | | |
| --- | --- |
| Principal | Mr Matthew Boake |
| Year Adviser | Miss Holly Buchanan |
| Assistant Year Adviser | Miss Amy Arevalo |
| Year 7 Deputy Principal | Mrs Kim Costa |
| Head Teacher Welfare | Mrs Kim McLean (Rel.) |
| Aboriginal Education Officer | Miss Madeline Matthews Turner (Rel.) |
| Head Teacher Teaching and Learning | Ms Alana Folkes |
| Special Education Deputy Principal | Mr Roy Goodenough |
Messages from our Head Teachers
Aboriginal Education
Miss Madeline Matthews Turner (AEO Rel.) and Ms Jess Sanchez (HT Aboriginal Education)
Our Aboriginal Education Office sits at the heart of Gorokan High School. Our team of Aboriginal Educational Officers ensure that all students have the opportunity to connect to culture and build meaningful relationships with our community. When attending Gorokan High School you will have the opportunity to be involved in a variety of curriculum based courses and classes such as the Local Aboriginal Curriculum in Years 7 and 8, as well as Aboriginal Studies in Stage 5 & 6. Students may also participate in Aboriginal Art, Dance and Didge. Additionally, we will support your connection to culture through a variety of programs run throughout the school including Dhinewan Mentoring, Dreambuilders, Pirru Thangkuray and the weekly Ngura Program. We continue to excel in bridging the gap of education by delivering tutoring programs and in-class support. We look forward to continuing your cultural journey, dreams and aspirations with us at Gorokan High School.
CAPA
Mrs MacKinnon (HT CAPA)
The Creative and Performing Arts Faculty at Gorokan High School is a great place for you to show off your creative talents. Whether you are good at art, music or drama, we have opportunities for you to shine in school performances, exhibitions and the school musical. In year 7 Music you will learn how to play the drums, guitar, keyboard and ukulele. We look forward to meeting you.
Core
Mr Moore (HT Secondary Studies)
The Core faculty is an innovative and energetic team of dedicated and caring teachers who place great emphasis on ensuring that your child is known, valued and cared for. Core runs the Humanities program for our mainstream classes. Humanities blends the History, Geography and English syllabus' into one engaging, conceptually based subject which allows students to learn in a supportive environment to develop their collaborative, critical-thinking and communication skills in a creative environment. Your child will see their Humanities teacher 11 times per cycle which allows the building of a strong educational relationship whilst assisting in the often-difficult transition from a primary to secondary educational setting.  
The Core faculty is also responsible for delivering the Languages other than English (LOTE) program, with Japanese being the language taught across Year 7. LOTE equips students with fundamental Japanese language skills while enabling an understanding of how languages work as a system as well as intercultural understanding.  
The faculty, in partnership with the Muru Bulbi Aboriginal Education Consultative Group (AECG) also oversees our exciting new Year 7 localised Aboriginal curriculum; Banal Ngaruga-dhi. Building upon Gorokan High School's strong reputation as an educational leader in supporting Aboriginal and Torres Strait Islander students, Banal Nguruga-dhi is a timetabled subject across all of Year 7 which focuses on building student knowledge and understanding of local Darkinjung language and culture. This exciting new subject, the first of its kind in a NSW secondary school, is supported in and outside of the classroom by local Elders and other highly respected Aboriginal educators to make the subject the success it is. All Core teachers have been engaged in extensive professional development in preparation for the delivery of the program.  In Banal Ngaruga-dhi Year 7 students engage in hands on learning and have the opportunity once a term to get out on Country to increase their cultural competence.  
The Core faculty looks forward to working with your child to enhance their educational outcomes as they continue their learning journey at Gorokan High School.
English
Mr Luke McCullough (HT English Rel.)
The study of English provides students with opportunities to experiment with ideas and expression, to become innovative, active, independent learners, to collaborate and to reflect on their learning. Students engage with and explore a variety of texts that include quality literature of past and contemporary societies. Through their responding and composing of both critical and creative texts, students develop an understanding of themselves and of diverse human experiences and cultures.
HSIE
Mrs Carla Debenham (HT HSIE)
In Human Society and its Environment (HSIE) students will have the opportunity to learn History and Geography. Studying History enables us to better understand the past and develop a greater appreciation for the world today. In Geography we learn about the wonders of the physical world and how humans interact with it. The Tutankhamun roadshow, WW1 exhibit and Medieval day are just some of the events on offer in HSIE. Our enthusiastic staff are passionate about the subjects we teach and look forward to meeting you. 
Mathematics
Mr Jonovski (HT Mathematics)
Mathematics is the foundation for many subjects. At Gorokan High School we ensure that students have the opportunity to explore all areas of Mathematics and discover the practical application of concepts. All teachers within the Mathematics Faculty reflect deeply upon the learning experiences students undertake, which is why Mathematics at Gorokan High School is rated highly as an immensely enjoyable subject. The Mathematics Faculty also offers an after-school Homework Centre on a Tuesday afternoon to assist students from years 7 - 10. We look forward to providing all students with memorable learning outcomes and experiences.
PDHPE
Mrs Ricketts & Mr Sharpe (HT PDHPE)
The PDHPE faculty is an energetic and innovative group of teachers who value health and physical education. Personal development, health and physical education (PDHPE) focuses on encouraging students to think critically, solve problems and make informed decisions related to health, safety, wellbeing and physical activity. The faculty is committed to ensuring the best possible educational and personal outcomes in a future focused environment for all students, free from discrimination and inequality, through a focus on soft skills and global citizenship. 
Selective - HPGE
Mrs Shanie Singleton (HPGE Coordinator)
Gorokan High School's High Potential and Gifted Education policy, promotes engagement and challenge for every student across intellectual, creative, social-emotional and physical domains. It supports every student to achieve their educational potential, through talent development opportunities and differentiated teaching and learning practices to ensure that their specific learning and wellbeing needs are met.
Additionally, as one of twenty seven partially selective high schools in NSW, we provide one class (with potential for two), with students selected through the Department of Education's High Performing Student Team. The students in our Selective Class participate in separate English, Mathematics and Science classes, at a minimum, and join non-selective students for other classes in other subjects.
High potential and gifted learners may demonstrate curiosity, a fast-paced ease of learning, intense concentration in new learning or areas of interest, a sophisticated sense of humour, creative and critical thinking skills, high expectations, and other intellectual, creative and socio-emotional characteristics. To cater for the needs of our HPG students, Gorokan High School teaching staff are constantly exploring ways to improve their teaching and learning and regularly engage in professional learning in this area.  
Science
Mr Mesina (HT Science)
In Science, students of all abilities are taught by a dynamic staff who make learning fun. The staff organise interactive classroom activities, excursions and experiences that are authentic and challenge our students to increase their understanding of the world we share. Science is a key part of understanding breaking news, interacting with our planet, choosing and using technology, and even making healthcare decisions. Without knowing it, Science at Gorokan High School prepares students for their adult life, regardless of the career path they choose.
Support Unit
Mr Goodenough (Deputy Principal Inclusive Education)
In 2022 the Support Unit at Gorokan High School consisted of 8 classes in total. This included six multi-categorical classes, one class for students with a mild intellectual disability and one class for students with behavioural difficulties. Our Support Unit will become one of the largest on the Central Coast and will cater for students with a diverse range of learning needs. Students are placed in our support class programs via an area office panel process and in consultation with their homes school, parents or carers. Our teachers provide personalised learning support programs that enhance the academic, social and emotional growth of all students. Students have access to all key learning areas through the implementation of an engaging and relevant curriculum. Our overall goal is to create a positive environment that supports our students to develop the skills to be active participants in the world around them.
TAS
Mr Ben Drelincourt (HT TAS rel.)
TAS comes together as an enthusiastic group of specialist teachers who give students an introduction to a range of skills as they design and create individual projects in the fields of agriculture, engineering, food and materials which includes electronics, metal, multimedia, textiles and timber. Digital technology is embedded throughout each focus area. Some projects created include felt project with a LED light (student's design), model wind turbine, alarmed timber box, miniature motion sensitive streetlight using technology such as 3D printing, laser burning and cutting and creating many dishes in the kitchen which makes use of our school garden. You may enjoy going home and making these for you family. We look forward to seeing you very soon.
GHS Uniform Shop
For all the information on our uniforms and how to order
GHS Uniforms
SCHOOL UNIFORM SHOP HOURS
Onsite school shop opens Tuesday and Thursday 7.30am - 8.30am
JANUARY 2024 OPENING HOURS: to be confirmed
THURSDAYS:  January

 

9am to 12pm to purchase uniforms


12pm to 1pm to pickup online orders only

SATURDAYS:  January
TUESDAY:  January
School Opal Cards
Who needs to apply:
A new application is only required if the student has not had a School Opal card before. If the student already has a School Opal card and is changing schools, campuses or home address, you will need to update their Opal card for the new school year before mid-December at apps.transport.nsw.gov.au/ssts